Colours are fun. It's a fashion fact. And one designer who certainly knows his fashion fun is Jean-Charles de Castelbajac. JC, as I shall refer to him for reasons involving speed and spelling, likes to play around with his collections instead of just producing bland boring clothes. Take his world-famous teddy bear coat from his Fall 1988 collection, for example, now that was cool. Not that I remember, I mean, I was born in winter 1988.
The latest collection by JC is sticking to his cur-ray-zee roots, with the theme being inspired by Lego and Disney. Luckily, this didn't entail the models wearing dodgy Lego-hairstyle wigs. Instead the collection was a bombardment of colour and fantasy. One dress comes complete with hair and tiara, on the dress that is, not for the model.
Also, you may recognise a couple of the pieces from Katy Perry's costume changes at the MTV awards...
Personally, I like JC's clothing because it seems unpretentious. The designs are fun and (for want of a better word) funky, which really is what fashion should be all about. Plus, Katy Perry looks amazing in his pieces. Although, she would look amazing in pretty much anything.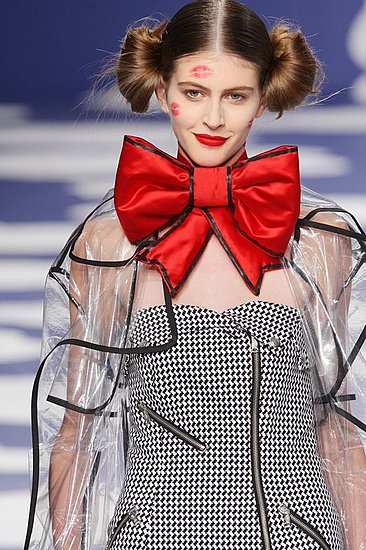 You really have to love the attention to detail with the lipstick marks.